BACK TO TOP PAGE OF INTRODUCTION OF JAPANESE CULTURE
[ Signboard Carving(KANBAN CHOKOKU) ] [ Fine Patterning(KATAKOMON) ] [ Lacquer Ware(SIKKI) ] [ Folding Fan(SENSU) ] [ Wind Bells(FURIN) ] [ YUKATA ] [ TSURISHINOBU ] [ Kite(TAKO)/Rake(KUMADE) ]
@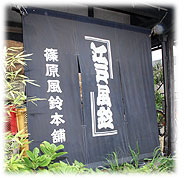 Furin has its origin in China about 2000 years ago.
It was called Senpitaku at that time, and it was used for fortune- telling.
Hanging down in the bamboo forest, Senputaku was used to determine the fortune of good and bad based one the direction and sounds of the bell.


Later, a group of Buddhist priests brought some back to Japan along with Buddhism.

One may after see them hanging down from each center of a temple roof.
It was believed that when people used it as a charm to avoid ill fortune, no disaster would ever befall them within hearing distance of the bells.
It was not until the Kamakura period when the great Buddhist Saint Honen named
it Furei.

Afterwards the term Furei became Furin. Because the term uses the same Kanji Characters as Furei. The word "Furin" has been in use until today.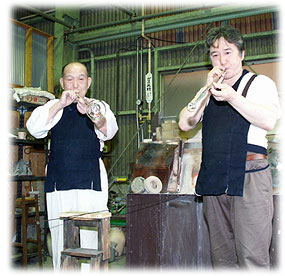 It appears that the first glass-made Furin made its debut in 1700, according to the documents. The glass craftsmen from Nagasaki used to make visits to the cities of Osaka, Kyoto, and Edo (Present Tokyo) to show the new glassware, while demonstration their skills there.

In 1800, Furin gradually spread among people and became very popular items.
It is said that the price for one piece was equivalent to 200 million-300 million yen in today's Japanese money.
The term "Edo Furin" was named by Mr.Shinohara, because Edo Furin have been passed down and used in Edo (Tokyo) from the Edo period (1603-1868) until now.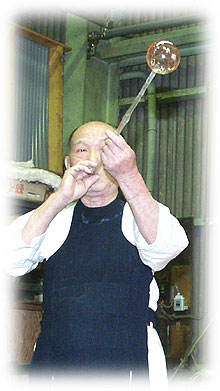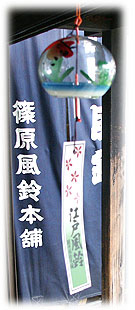 Could you tell us about your work.
We manufacture Edo Furin for the most part.
We make as many as 300-400 pieces a day.
Besides this, glass-made eyeballs for dolls and Hoppen (a plaything) are also made in our shop.

Tell us how you became engaged in your work.
I was form into a family of Furin makers as a first son.
It was Customary for a first son to take over the father's job, whether he liked it or not.
As I used to help my father at an early age, I made up my mind to apprentice myself at my father's job. Since then, I have been engaged in it for more than 60 years.

What's the merit of a craftsman?
I am quite satisfied with my work when I can do my work being sensitive to the Japanese feelings like this, especially when the Furin starts talking or whispering to us in a refreshing summer breeze.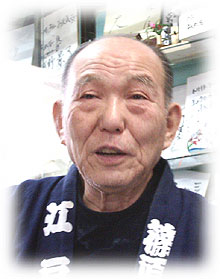 Tell us about your future plans?
As a long-established shop we believe that we've got to lead in this line of business.
What is more, the craftsmen, in particular, should be more curious to know about things around then in order to survive.
I would like to produce such a Furin that can be a fashion leader in the future.