BACK TO TOP PAGE OF INTRODUCTION OF JAPANESE CULTURE
[ Signboard Carving(KANBAN CHOKOKU) ] [ Fine Patterning(KATAKOMON) ] [ Lacquer Ware(SIKKI) ] [ Folding Fan(SENSU) ] [ Wind Bells(FURIN) ] [ YUKATA ] [ TSURISHINOBU ] [ Kite(TAKO)/Rake(KUMADE) ]
@

Kyoto has prospered as a center of the folding fan, but even in Tokyo, the Edo Sense (Edo folding fan) has been produced using a traditional technique.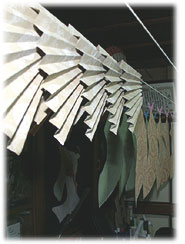 The unique feature of the Edo folding fan is unlike the gorgeous Kyoto folding fan, much more quiet and simplified with the number of ribs being 15-18, less than the number of those of Kyoto, and with much wider fold.
We need almost 30 Procedures to complete the work.

Ours job is done only by hand and requires a lot of skill brought about by long experience. However, if you fail to get the knack of it, the Sensu (folding fan) will end up with the crease being left with uneven edges when they are folded, as the Washi paper doesn't stick to the ribs.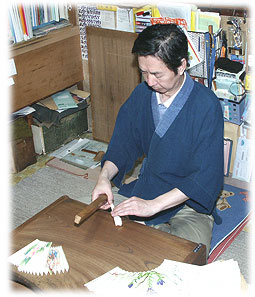 Tell us about your job.
Unlike Kyoto, where much more advanced techniques in the process are used, The Edo folding fan is made by only one person from beginning to end.
In every step, I am engaged in the task, such as painting, rib-framing and so on.
We have about 30 Procedures in total, but each of them needs a very delicate technique with deliberate care and sense that have been fostered through long experience.
We are required to have training period of about 10 years, before we can actually start working.

How many artisans are there now?
There were more than 20 people in Tokyo at the Golden age (30 years ago), but currently there are only four, including myself in Tokyo and one in Saitama prefecture.


What's the most difficult and time-consuming task?
We have to pay a lot of attention to the weather, humidity, and the different drying times in spring and summer since we use natural materials such as bamboo and washi paper.
We have to be sensitive to the season. This is a very hard task for us.

What's the merit of being an artisan?
I have enjoyed making things since my childhood. This has led me to enter this line of work.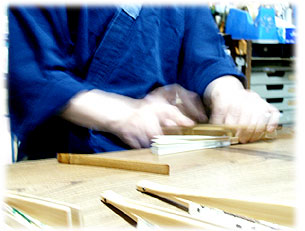 I've been very happy being able to do this job.
Sometimes, we have orders requiring difficult tasks. In such cases, we try to talk a lot with the customers during the job, taking their ideas into consideration.
When the customers are taken by the work and are contended with it, we feel very happy at such a moment being an artisan.
I probably would be an artisan of another line even if I failed to become an artisan of the Edo folding fan.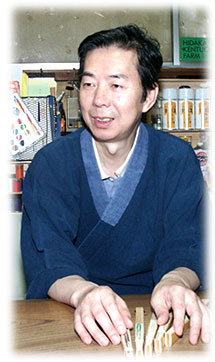 What's your future plan?
I have nothing in particular, but I would like to pursue my career by finding something new in folding fans. We are able to live in a peaceful and stable situation when we continue on with our work, however I have a feeling that we've got to challenge ourselves to create a wonderful Sensu (Folding fan) that can give people much more delight through usage in daily life.