BACK TO TOP PAGE OF INTRODUCTION OF JAPANESE CULTURE
[ Signboard Carving(KANBAN CHOKOKU) ] [ Fine Patterning(KATAKOMON) ] [ Lacquer Ware(SIKKI) ] [ Folding Fan(SENSU) ] [ Wind Bells(FURIN) ] [ YUKATA ] [ TSURISHINOBU ] [ Kite(TAKO)/Rake(KUMADE) ]
@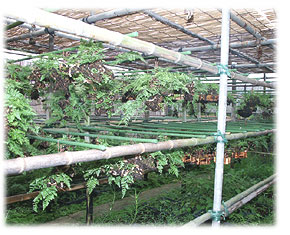 Tsurishinobu (D.mariesiimoore, the scientific name for the plant we call Shinobu) is distributed throughout Japan, it is an epiphytic planet that grows on old trees and rocks in moist areas which have a little sunlight.

Tsurishinobu is a foliage planet which is made into an elegant shape like a raft or hanging lantern by using plants such as Shinobu, mountain moss and bamboo.

Even today with adequate air conditioning systems it serves us by cooling down evening in summer using a small amount of space.
It also brings us the greenery that seems to be largely missing from the city.

Please tell us about your job.
We specialize in making Tsurishinobu, Tsurishinobu is a potted plant with bunched leaves and moss around its bamboo core.
It hangs from the eaves of the house and can be enjoyed to escape from the heat of summer.


There are 15 kinds of them that we produce so far, including large and small ones.

What are the merits of your job?
I though I have had strong and weak point in acquiring the abilities needed to do a task, I am quite satisfied when I can carry out the task from the beginning to the end all by myself.
If I were born again, I would do the same job as I do now.
I would like to try it again. I really love it because, strangely enough, I still think something deep exists in it.

How do you relax yourself?
I am fond of machines, especially of cars. During the off-season in October, I have time to enjoy fixing my car by replacing the parts after dismantling it.
I don't like to buy a new one just because I think I can get more fun out of reforming my old one than out of buying a new one.
The delight I can take from this task is much the same as of Tsurishinobu, particularly when a difficult task is finished up.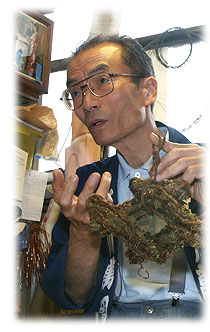 I have great faith in myself, which is a great joy to me.

Please tell us future dreams.
Tsurishinobu is not only a hanging decoration, its very existence has some kind of aesthetic appeal.
It is attractive in itself. However, by imposing it with our new ideas, I am able to create something different that is eye-catching.
I would like to arrange Tsurishinobu in my own day, so that it is possible to change the place that it decorates.